For some people it's a forgotten seaside resort on the Riviera di Ponente in Liguria, for others it's one of the most beautiful climbing destinations in Europe or a diverse region for hiking. So is anyone really surprised that camping has also been embraced in Finale Ligure?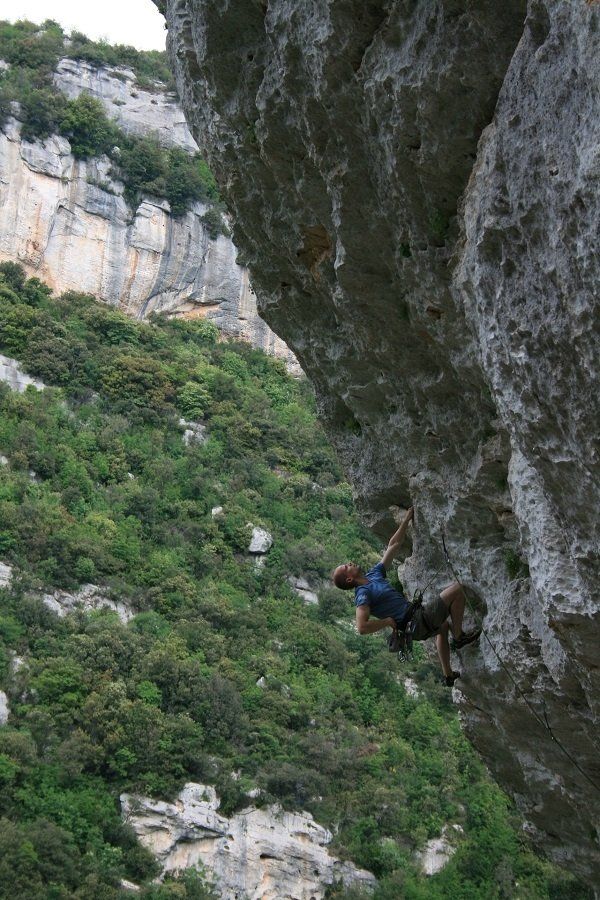 The climbing areas around Finale Ligure are not for beginners – but it can be exciting to watch. Photo: Claudia Rothkamp
On the rocks: Climbing in Finale Ligure
For more than 50 years now, the area around the small coastal town of Finale Ligure has been one of the most popular climbing areas in Europe and Italy for advanced climbers. More than 3,000 climbing routes with different levels of difficulty have been set up here over the course of half a century. It was mainly knowledgeable local climbers who opened up these sectors and added safety bolts. However, there's one tiny drawback: it's not for beginners or people refreshing their climbing skills. Although the climbing routes range in difficulty from 3 to 8c+ (with the French grading system), most routes are graded 6a to 7a. There are short sport climbing routes and alpine multi-pitch routes over several hundred metres. But if you have done enough training and have good climbing abilities, this is the place to be. And you'll be amazed by the grip and variety of limestone – equally so by the experiences you'll make in a grandiose natural landscape as the view over the valleys to the sea alone is worth a motorhome or caravan trip.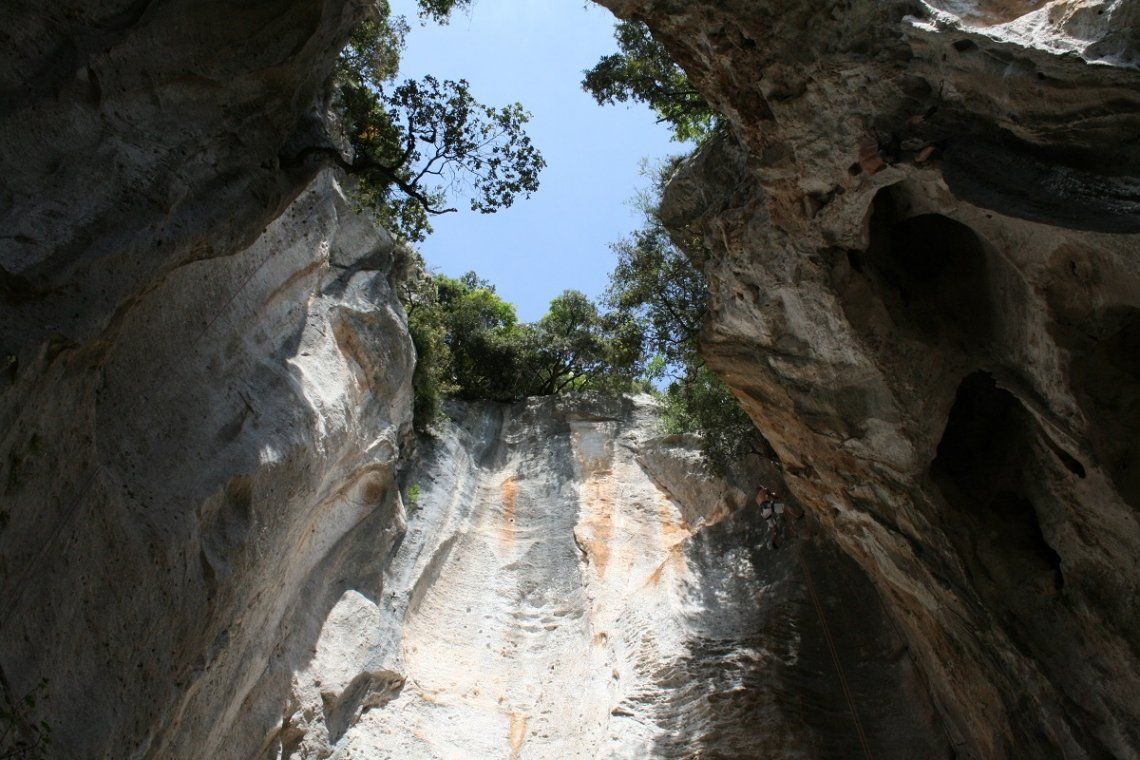 The fascinating limestone funnels and holes on the ascent to Grotta dell'Edera make for a great hike. Photo: Claudia Rothkamp
Adventurous ascents and captivating hiking trails
If you're used to parking your campervan as close as possible to the rock that you intend to climb, you'll have to reassess this habit in Finale Ligure. There are a few areas where you can do so, but to experience the most beautiful and thrilling climbing sectors you'll also have some work to do on the approach. You can be assured that they are also significantly less crowded than other spots. Moreover, some of the ascents make great hikes per se and are an adventure in their own right. This includes the access to Grotta dell'Edera above the Urta Valley on the Parete Dimenticata. If you want to see this geologically impressive and open-topped grotto, you'll first have to make your way through a dark cave on fixed ropes. The rocky step is also not for the faint-hearted: about ten metres high, which you'll have to descend using iron clamps to get to the Falesia del Silenzio sector in the Rian Cornei Valley. But the thrills are worth it as you'll be rewarded with great views. Climbers will find some of Finale's best climbing routes here, and hikers can enjoy breathtaking adventure trails. However, hikers walking on these sections will also need to be aware of how to stay safe.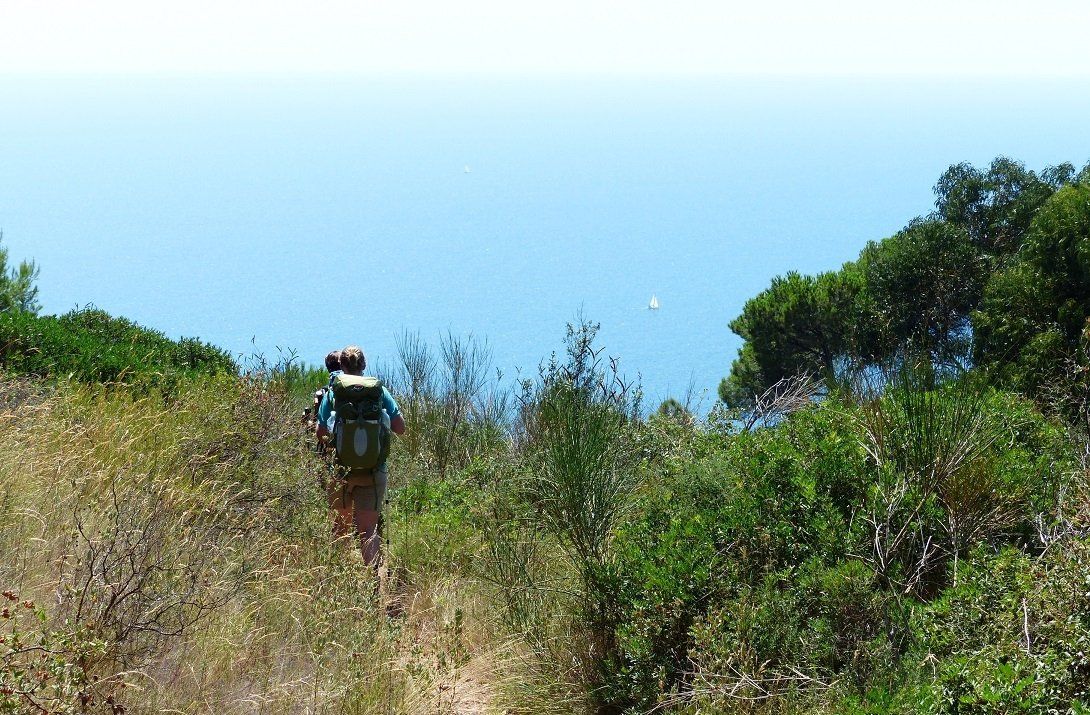 The high-altitude trail from Liguria goes through beautiful maquis shrubland. Photo: Pixabay
Hiking in Finale Ligure: Tours through the hinterland
If you're feeling less adventurous, then head to the hinterland of Finale Ligure. A number of well-marked hiking trails go through secluded valleys in the Maritime Alps, which are characterised by terraced slopes with grapevines, olive groves and citrus trees. And where the land cannot be used for agricultural purposes, you'll find native maquis shrubland with broom, euphorbia, cistus, myrtle, holm oak, thyme, lavender, rosemary and Aleppo pine. Some of the hiking trails wind their way between Byzantine and medieval remains, whereas centuries of Baroque and Moorish influences are still evident in the small mountain villages around Finale Ligure today.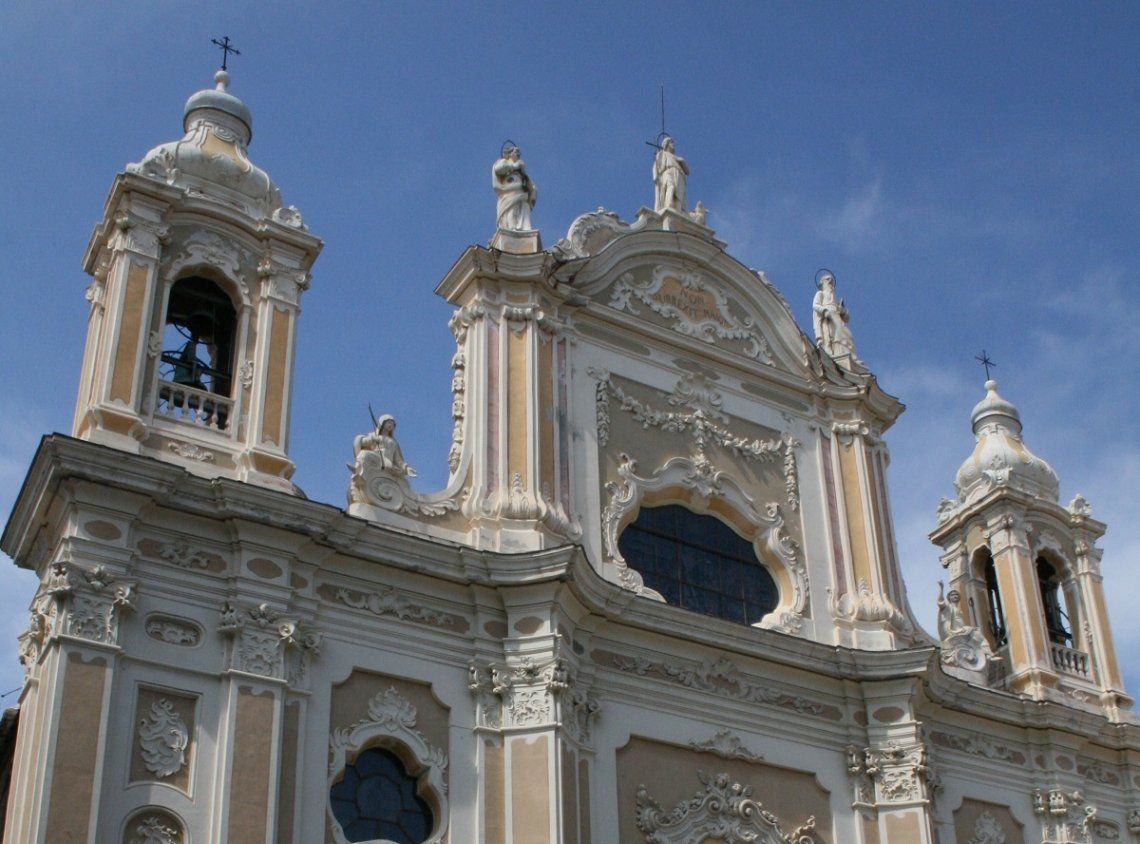 The Basilica San Giovanni Battista is an outstanding example of Baroque architecture in Liguria. Photo: Claudia Rothkamp
However, one of the most important examples of Ligurian Baroque architecture is the 17th-century façade of the Basilica San Giovanni Battista (Basilica of St John the Baptist). It is located in Finalmarina, the main tourist centre of Finale Ligure on the coast. In summer, it's all about dolce far niente here – sunbathing, fun water activities and strolls along the beach promenades and through the alleys of the old fishing village. About two kilometres northwest is the district of Finalborgo where many historical structures and buildings from the 15th century are still preserved. One handicraft shop after another sells creative products made from stone, ceramics, glass, wood or iron in the narrow streets. And if you want to take a well-deserved break after an active day of climbing or hiking, you can do so in one of the many trattorias, caffès and gelaterias scattered all around Finale.
When is the best time to visit Finale Ligure?
Located in Italy between Savona and Albenga, Finale Ligure is just under 80 kilometres southwest of Genoa. The mild Mediterranean climate makes Finale Ligure perfect for a range of activities such as climbing, hiking and mountain biking all year round. However, the best time of year to visit is in spring and autumn. It can get quite hot in summer, although temperatures in the mountains tend to be slightly cooler than on the coast.