Our article on the county of Kent has already shown that the southern English county of Kent is perfect for camping holidays with a motorhome or caravan. But which routes are best to take and what's there to see? We have put together a few highlights along the north-east coast of Kent, including the Isle of Thanet and some of the most beautiful beaches in southern England. Moreover, the historic seaside resorts offer a wide range of cultural and leisure activities for the whole family, with entertainment for young and old. We recommend stopping over at any of the following places: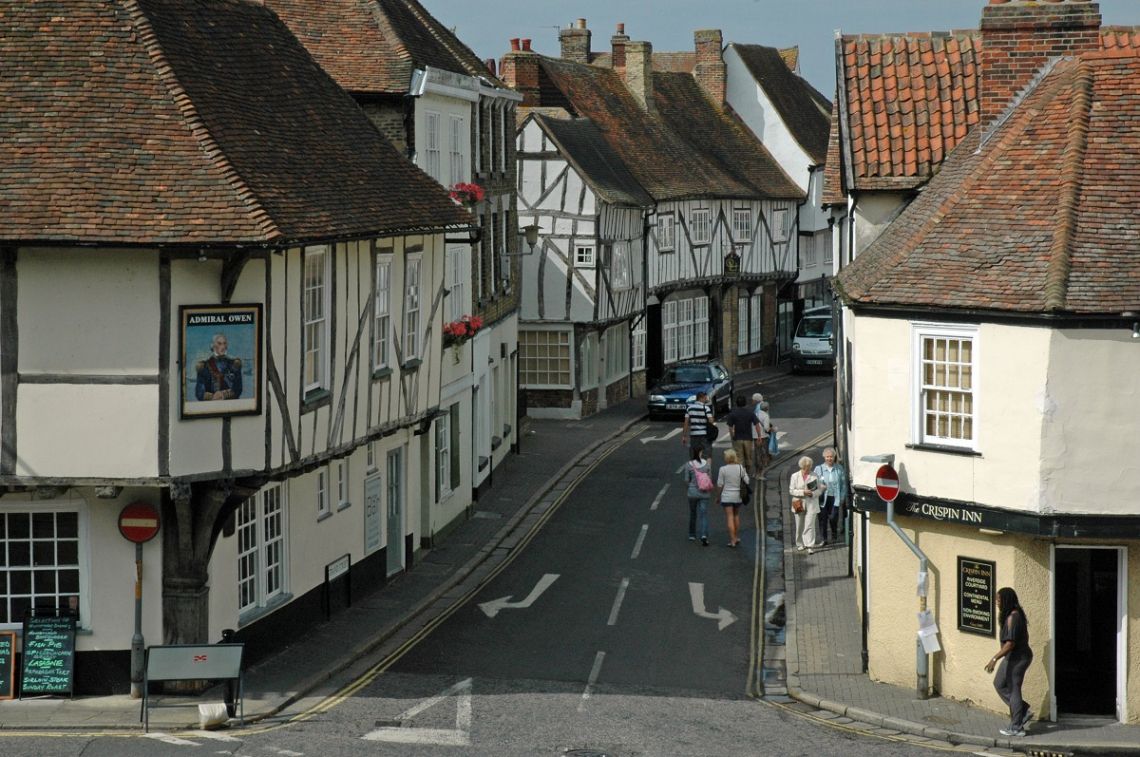 The houses in Sandwich have been witness to an eventful history. Photo: Jörg Berghoff
Stopover #1: Sandwich – a pretty understatement
On the flat Kent coastline north of Dover lies a small town with a great past. Sandwich, with around 5,000 inhabitants, has retained its medieval charm. Paired with elegant modesty, you will find a tranquil small-town atmosphere and evidence of history everywhere you look as Sandwich was once the most important port in England. The name alone will whet your appetite. But a delicious sandwich is by no means the only thing that has made this town on the River Stour famous.

An eventful history has left its mark on Sandwich – John Montagu (1718-1792), 4th Earl of Sandwich, and his "invention" are simply a side note, which has nevertheless spread all over the world, and sandwiches can now be found almost everywhere in one form or other. Even a group of islands, the South Sandwich Islands, was named after the Earl who was undoubtedly an avid cribbage player. The card game originated in England in the 17th century and is said to have tied John Montagu to the gaming table in 1762 in such a way that he had no time to dine. So he had a piece of meat placed between two slices of bread brought to him and voilà, the sandwich was born. But it is not known whether he also won the game. In any case, you can enjoy a sandwich from Sandwich in style on a bench on the river promenade while watching boats swaying gently on the River Stour.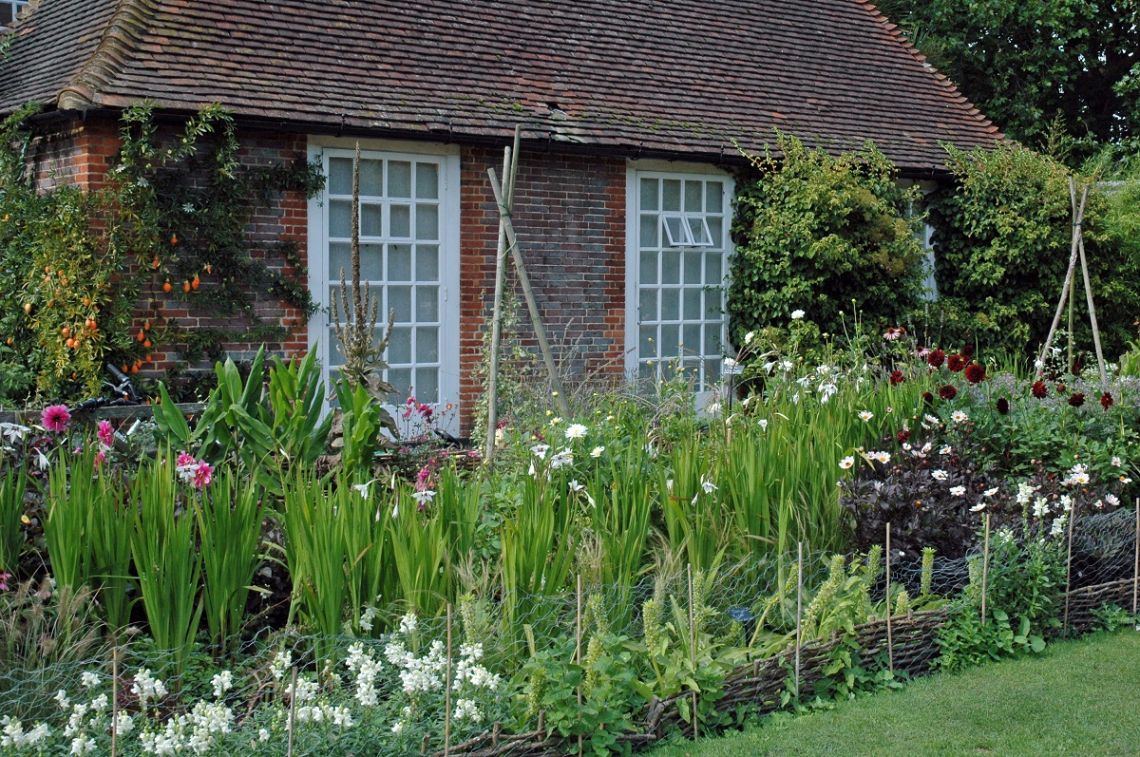 The Secret Gardens of Sandwich can be visited again. Photo: Jörg Berghoff
Sandwich's maritime past
These boats remind us of a time when Sandwich was less than three kilometres from the sea before the harbour was closed by silting. All seafarers, pilgrims, invaders and merchants – whether Saxons, Danes or Normans – set foot on English soil for the first time here in Sandwich. Edward the Confessor (1042-1066), the last Anglo-Saxon king, chose Sandwich as one of the five ports in the Confederation of Cinque Ports. These ports were granted special rights and privileges in exchange for providing ships that were fully equipped and ready to attack at any time to protect the English coast. This was practically the beginnings of the English fleet, which went on to conquer the seas. But their ships would most certainly not have fit through the pretty drawbridge over the Stour.

This is also true of The Salutation, a grade I listed house, and The Secret Gardens of Sandwich, located right on the quay. Completed in 1912, the country estate was designed by the famous architect Sir Edwin Lutyens and the congenial landscape architect Gertrude Jekyll, and can be visited again. After years of restoration, the owners have managed to create a luxurious retreat that breathes the spirit of Lutyens and Jekyll. Sandwich and understatement? Of course! Where else would you find a deli called No Name Shop on No Name Street?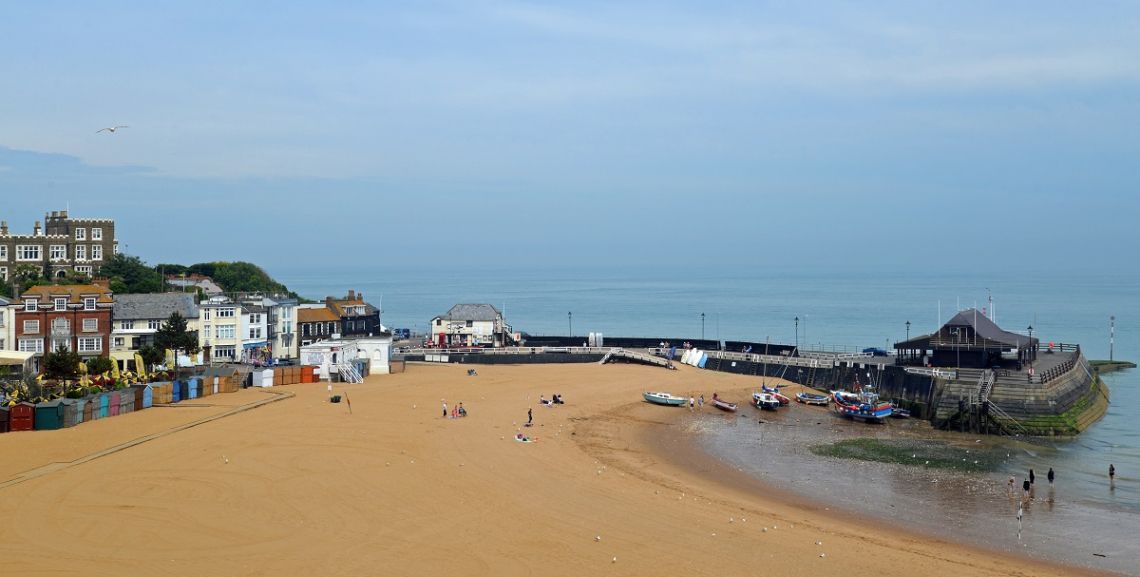 Broadstairs is still a traditional seaside resort today. Photo: Jörg Berghoff
Stopover #2: Broadstairs – Charles Dickens' summer retreat
The delightful little town of Broadstairs has charming small boutique shops, traditional brick houses, fishermen's cottages and half-timbered houses. This is where Charles Dickens preferred to retire to when he wanted to work in peace and quiet. Seven beautiful beaches are perfect for romantic walks by the sea that will take you to dreamy bays. The smallest of the Isle of Thanet's three seaside resorts is by far the most pristine. It won't be easy to find any amusement arcades or gambling halls here, but you will get to enjoy a wonderful view over the gently rolling Viking Bay and its pier at the north end, which dates back to the 16th century. Charles Dickens first came to Broadstairs in 1837 as a 25-year-old writer when he was close to completing "The Pickwick Papers". He quickly fell in love with the "healthiest and freshest of places", as he referred to the town.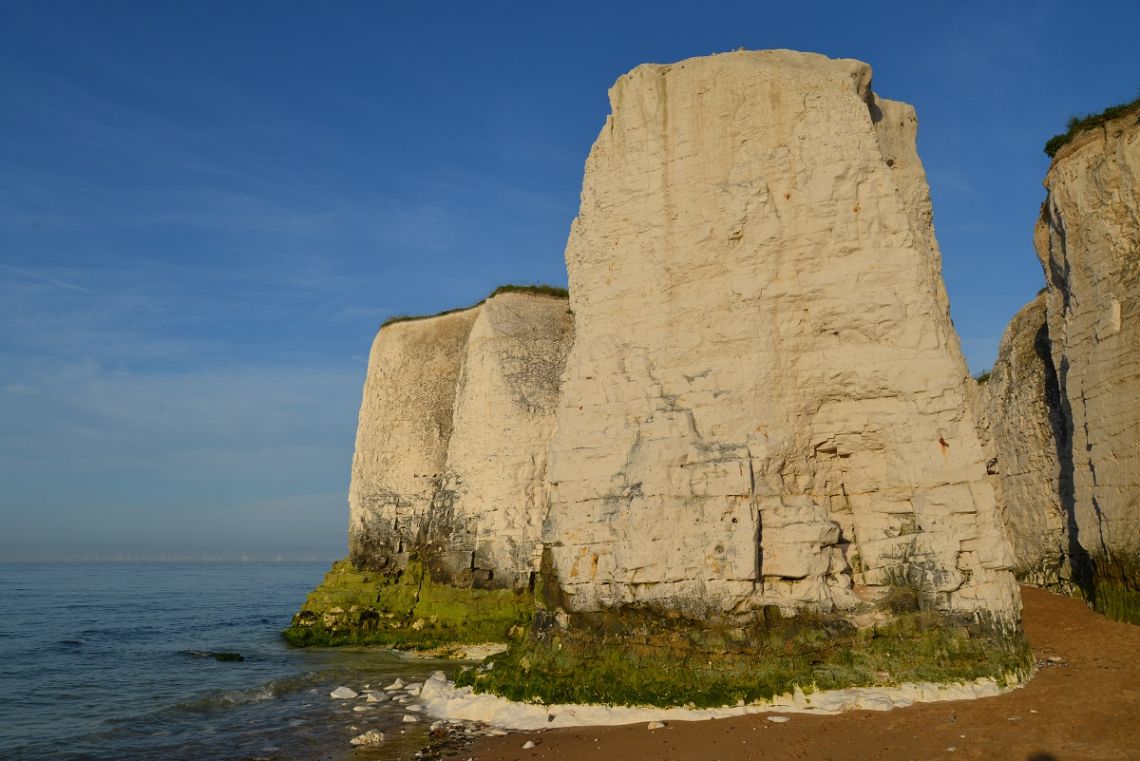 Smugglers and pirates once felt at home near Botany Bay. Photo: Jörg Berghoff
Beaches and bays of Broadstairs
Broadstairs also has seven beautiful beaches and bays. One of the most beautiful is Botany Bay with its impressive chalk cliffs, which is a sought-after film location and known from idyllic postcards. How did it get its name? It used to be a popular smuggler's haunt and at that time anyone caught with stolen or smuggled goods was deported to Botany Bay in Australia to a penal colony. Nowadays you will no longer encounter pirates and buccaneers, but are more likely to come across crowds of fossil hunters on the beaches of Botany Bay at low tide looking for fossilised evidence of the past. Or amateur fishermen looking for easy prey in the numerous rock pools. The quiet Kingsgate Bay to the north or Louisa Bay to the south are ideal for long walks on the beach.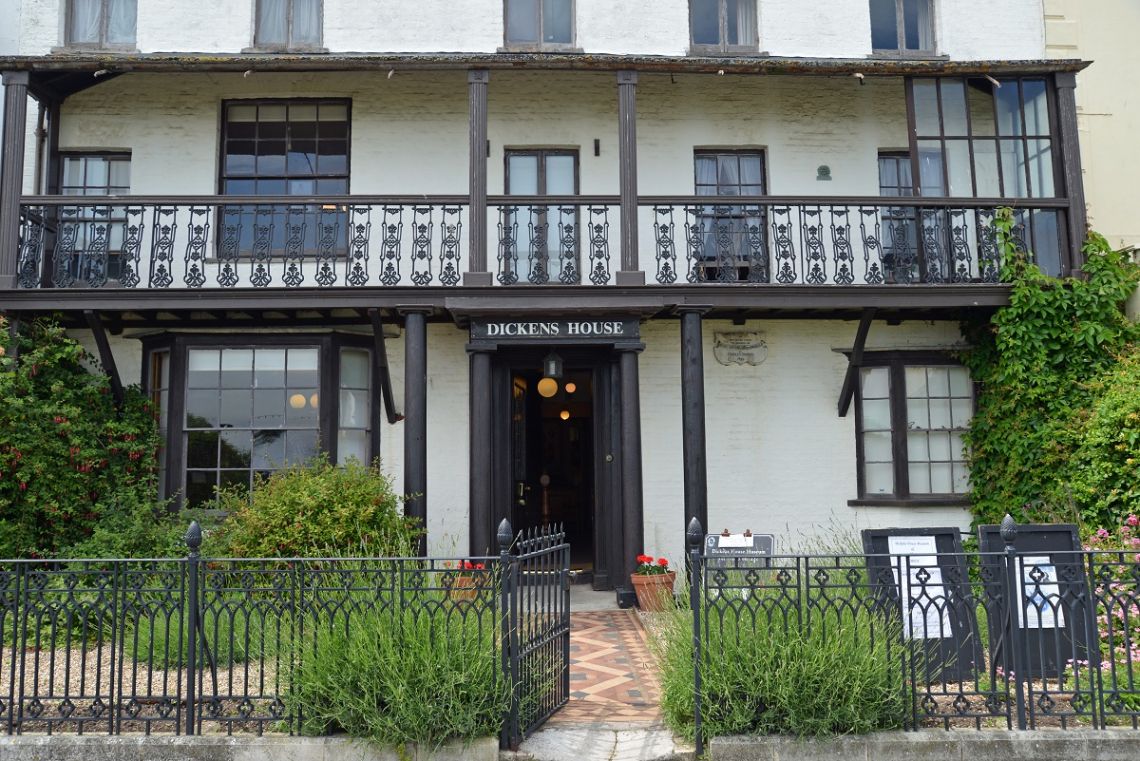 The building that now houses the Dickens House Museum clearly bears reference to Charles Dickens. Photo: Jörg Berghoff
Festivals, ice cream parlours and sights in Broadstairs
Three big festivals take place in Broadstairs every year. Famous folk musicians from all over the world come here for Broadstairs Folk Week in August; the Dickens Festival in June is just as international, with fans and writers mingling for several days; and the Food Festival in October brings hip chefs, gourmets and visitors together to celebrate good food in style and in a relaxed atmosphere. If you want something refreshing but with a vintage vibe, make sure you try the many different types of ice cream at one of the famous ice cream parlours in Broadstairs – often with a wonderful view of the sea thrown in.

One of the stars among the ice cream parlours is Morelli's Gelato at 14 Victoria Parade – an Italian retro-style ice cream parlour with delicious ice cream specialities. It was founded in 1932 and is still owned by the Morelli family. As soon as you step into the ice cream parlour, you will be transported back to the 1950s and 1960s: the jukebox plays songs from a bygone era, a fountain burbles away, cosy corners in pink artificial leather and Formica blankets create such a unique atmosphere that will leave you in awe. Order a large ice cream sundae with paper parasols and crispy chocolate shavings, retreat to a table in the corner, look across Viking Bay and dream about the times when life was supposedly simple and uncomplicated.
Anyone and everyone who has ever read or heard of Charles Dickens should visit the Dickens House Museum on Victoria Parade in Broadstairs at some point in their life. It illustrates the writer's literary connections to the region in a particularly vivid and sensitive way. And it is located in the very house that once belonged to Miss Mary Pearson Strong, who was the inspiration behind Dickens' character Miss Betsey Trotwood in his novel "David Copperfield".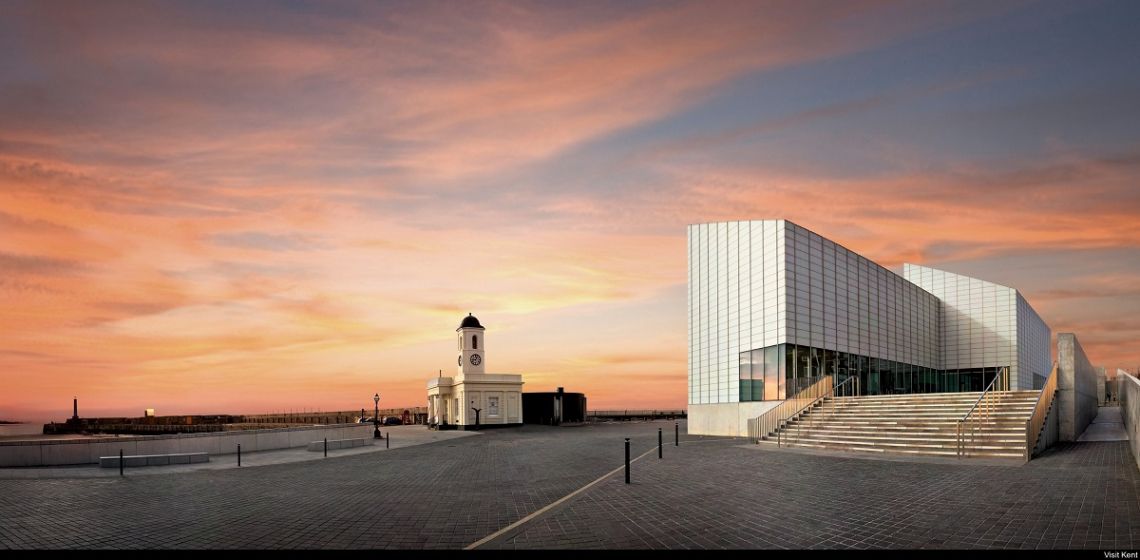 The modern architecture of the Turner Contemporary art gallery has brought a breath of fresh air to Margate. Photo: Visit Kent
Stopover #3: Margate – traditional seaside resort with an art gallery
Contemporary art galleries have brought a breath of fresh air to the traditional seaside resort of Margate, and historical theatres and museums are full of life again – benefiting both visitors and locals. But a quick warning: parking spaces are hard to come by in summer in the picturesque old town and at the lively harbour of Margate. The best place to park your motorhome is at Harold Road Car Park or Trinity Square Car Park on the outskirts of the city. The seaside resorts in Kent are full of 21st century galleries as the northeastern tip of Kent has always been very international and today, more than ever, there is creative flair in the air. For instance, the stunning landscapes drew the painter Joseph Mallord William Turner to Margate, and the Turner Contemporary art gallery named after him exhibits outstanding historical and contemporary works.

The exhibitions are not the only attraction: the building itself and its modern architecture create a conscious contrast to the promenade, looking like a continuation of a wave rushing from the sea, but without threatening to engulf Margate, It has brought a breath of fresh air to the historic alleys and an area that had seen better days. An initially sceptical attitude towards a modern art gallery in this traditional seaside resort has given way to enthusiasm for this "house of art".

Day trip to Quex Park
Quex Park near Birchington-on-Sea and the Powell-Cotton Museum located within its grounds are also worth a visit. The life's work of Major Percy Horace Gordon Powell-Cotton (1866-1940) alone is like an adventure. The globetrotter, avid hunter, art collector and philanthropist created a museum and a park on his country estate that you will be hard pressed to find elsewhere.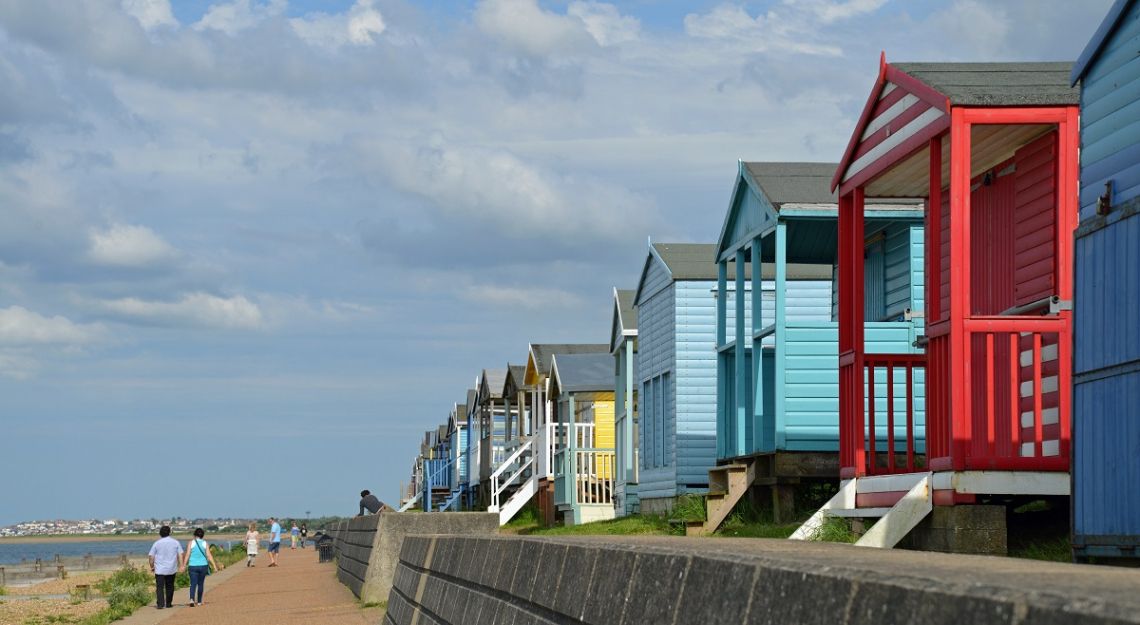 Whitstable's beach promenade is lined with brightly coloured beach huts. Photo: Jörg Berghoff
Stopover #4: Whitstable – a holiday hotspot for families and food lovers
The famous "Whitstable Oysters" played a key role in giving this charming harbour town on the north coast the name "Pearl of Kent". Today, the city is a combination of trendy, bourgeois flair with many excellent fish restaurants, picturesque alleys and creative shops and boutiques. Gourmets have been coming to Whitstable for its oysters for more than 2000 years. This treasure was exported from here to all of Europe as far back as the Middle Ages and in the 18th century there was busy boat traffic to and from London when the crustaceans became extremely popular in the capital. Fishing is still important here and you can observe seamen hard at work at the harbour and fish market. The annual Oyster Festival in July sees oyster fans, and anyone hoping to become one, make a pilgrimage to Whitstable to enjoy this delicacy, with fine seafood dishes on every corner.
Sights and highlights in Whitstable
Even if you do not like oysters, you should still make time to visit Whitstable as it has many other sights and highlights. These include really cosy pubs, such as the "Old Neptune" located right on the pebble beach, and spectacular panoramic views of the sea and wide skies in the evening, perfect for relaxing and dreaming. Other must-see places are the spectacular 18th century Whitstable Castle with its delightful park and garden, the museum on the city's history and the development of oyster fishing as well as the boutiques on the High Street. The castle was originally known as Tankerton Towers, and its towers still look as though they could defend the building and town despite their adornments. The inviting gardens and old trees around the entrance area give it a charming, almost fairytale-like character.

Or you could take a stroll through the Forest of Blean. Or how about a bike ride on the nostalgic Crab and Winkle Way, a quiet 12.5 km foot and cycle path connecting Whitstable to Canterbury? As you can tell, there is plenty to see and do in Whitstable.