Historical trade, conquest and pilgrimage routes have lost none of their attraction to this day. Even if the infrastructure along the routes has naturally changed over the centuries, an abundance of cultural heritage and landscapes still capture people's imaginations with their sagas and legends.
It's not really important whether they run from north to south or east to west nor the direction they are travelled on. What does matter are the experiences, discovering a historical heritage, and the little gems off the beaten path. A new tourist route was recently launched in Great Britain, which follows the old north-south axis through the heart of England and reveals many attractions that previously only shone in the dark – "The Explorer's Road" is about to change all that.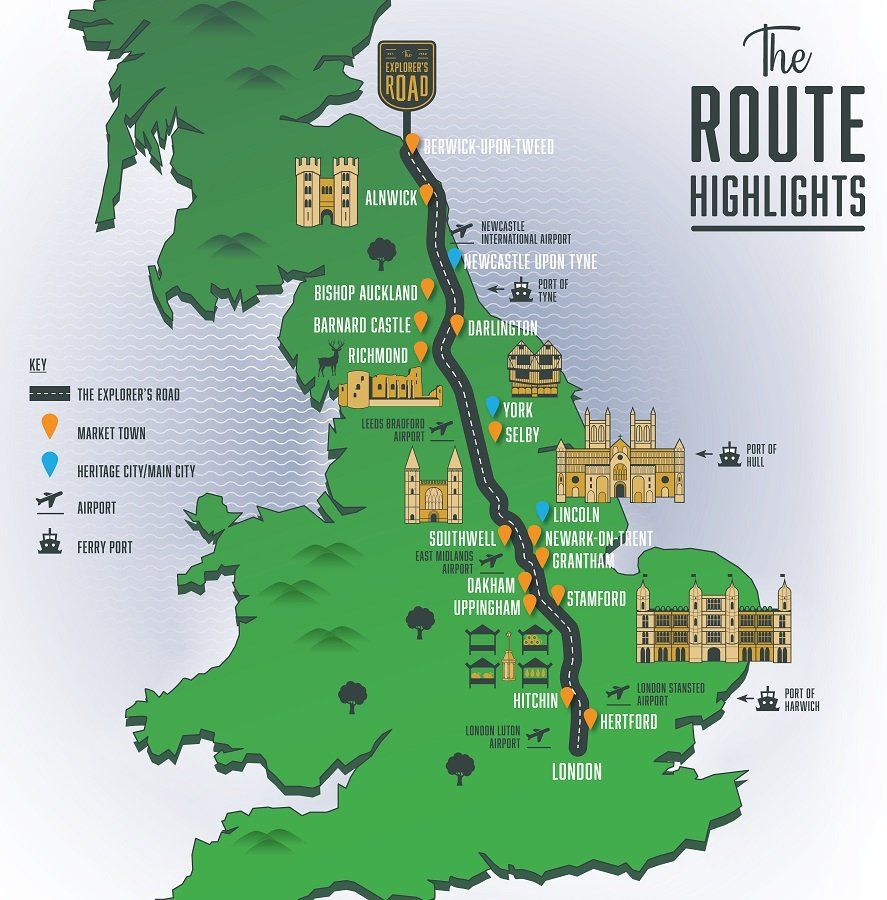 The Explorer's Road runs from London in the south of England to Berwick-upon-Tweed in the north of England. Graphic: VisitBritain
The Explorer's Road allows for tailored and flexible itineraries
If travelling from mainland Europe, your flexible itinerary starts as soon as you book the ferry. You can either get to Dover from Dunkirk or Calais with your motorhome or discover the Explorer's Road from north to south by taking a ferry to Newcastle upon Tyne from Amsterdam. The modular system along the route, which makes it easy to put together an individual itinerary to suit your needs, turns it into an exciting round trip through the historical heart of England, with attractions galore simply waiting to be discovered. You can explore the typical English landscape off the beaten track and visit famous landmarks. These include Burghley House, one of the most beautiful buildings belonging to the British aristocracy, and the Kielder Forest and Kielder Water reservoir. Or you can follow in the footsteps of Robin Hood in Sherwood Forest. This all gives an authentic picture of British traditions, culture and life on the island. For more than 2000 years, the people living in England have been walking and driving on a unique highway that connects the North and South along a natural 500 km route through the history and the cultural heart of the country. Curious campers can now easily get to know the English and their way of life, traditions and eccentricities. This route lets visitors experience the country and its people up close. The Explorer's Road offers motorhome owners authentic history with genuine English experiences that can be enjoyed at your own pace and tailored to suit your interests. Here is a selection of the most beautiful stops off the beaten tourist track: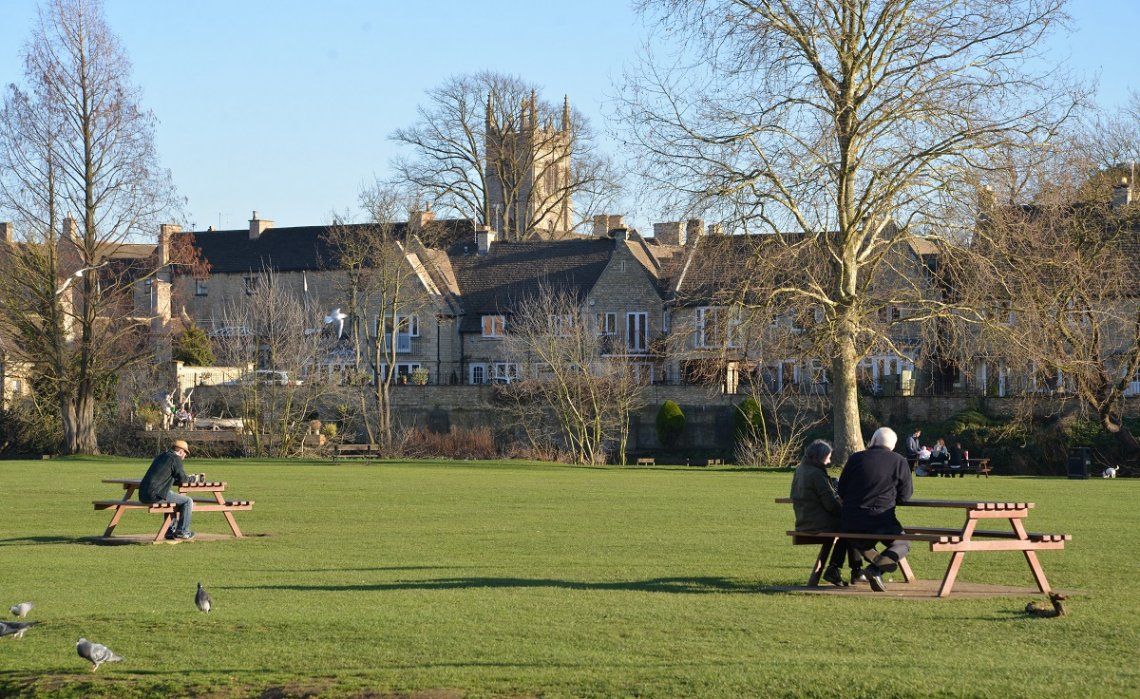 Stamford has often served as a film location due to its many old stone houses. Photo: Jörg Berghoff
Freeontour tip #1: Stamford
Take the small charming town of Stamford in Lincolnshire, which is halfway between London and York. Georgian Stamford was even described by Sir Walter Scott as the most beautiful stone city in England. It was also the first conservation area in England to be designated under the Civic Amenities Act 1967. Since then, all of the old town and St Martin's have been classified as areas of architectural and historic interest of national importance. It is even mentioned in Shakespeare's drama Henry IV. Its numerous spires, old stone houses and pubs also make Stamford a popular film location, e.g. external shots of "Pride and Prejudice" and "The Da Vinci Code" were filmed here.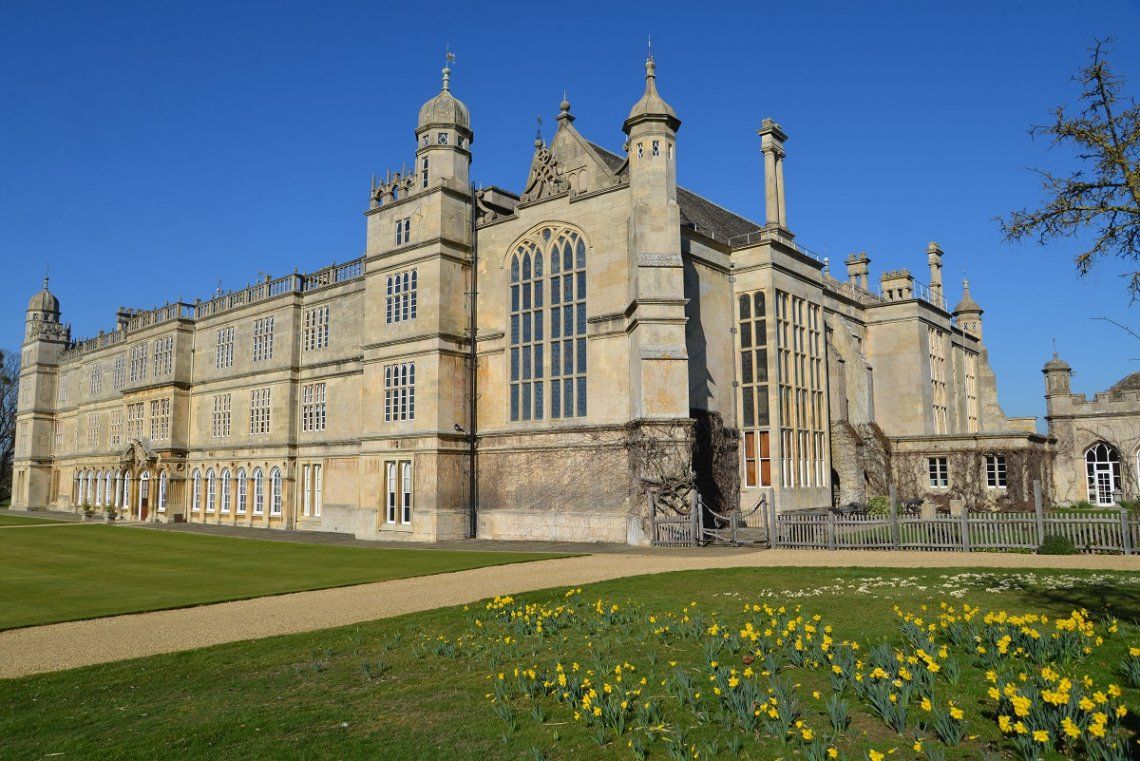 The impressive Burghley House was built in the late 16th century. Photo: Jörg Berghoff
Freeontour tip #2: Burghley
Burghley House is not only imposing, but also one of the largest manor and half-timbered houses around from the time of Queen Elizabeth I. The rooms are magnificent, the art collection and wall and ceiling paintings are exceptional. The lavish collection of copper "batterie de cuisine" in the old kitchen as well as numerous stories of hunters, collectors, noblemen and craftsmen authentically tell what life was like in and around Burghley House. The surrounding park landscape was created by the famous garden architect Lancelot "Capability" Brown. It includes the Garden of Surprises, designed to enhance the senses. And you can end your visit in style in the adjoining tea house in the orangery by enjoying some strawberry jam, clotted cream and scones.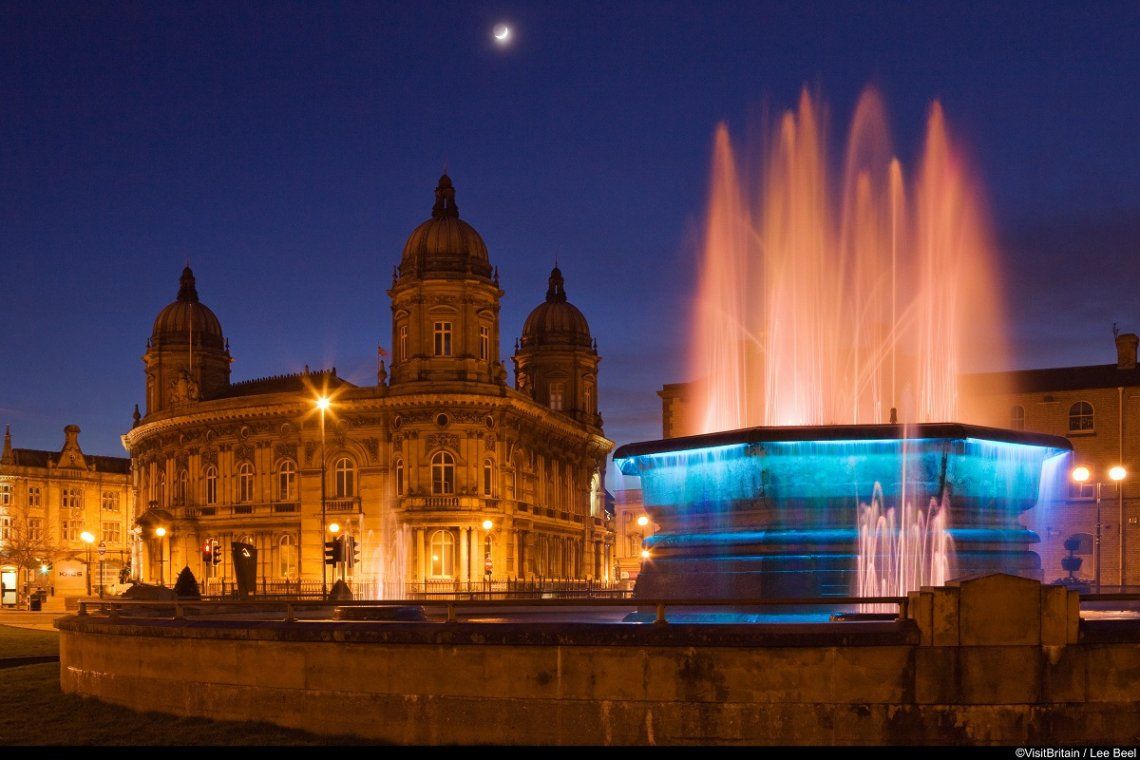 Queen's Gardens fountain and the Maritime Museum in Hull in the evening.
Photo: Visit Britain / Lee Beel
Freeontour tip #3: Kingston-upon-Hull
Hull is dull – most children in England will have heard this. But Hull's days of being bland, boring and monotonous are long gone. Kingston-upon-Hull may not be a royal metropolis yet, but this port city on the Humber River no longer needs to hide. High investments in the city centre and the waterways have turned the districts around Trinity and Victoria Square, the indoor markets, small alleys with quaint pubs and modern shopping streets into a modern city with maritime flair. Be it the Maritime Museum, City Hall, Queen's Gardens or Humber Bridge – there's plenty to see here for a whole day and more. Also worth a visit is Wilberforce House, where William Wilberforce, a member of parliament and most important campaigner for the abolition of slavery, lived at the beginning of the 19th century. Or how about visiting historic museum ships such as the Arctic Corsair deep-sea trawler and the 75-year-old Spurn Lightship light vessel? The renowned newspaper The Guardian recently voted Hull as one of the top 15 cities in England to visit. And it was even named the "UK City of Culture" in 2017.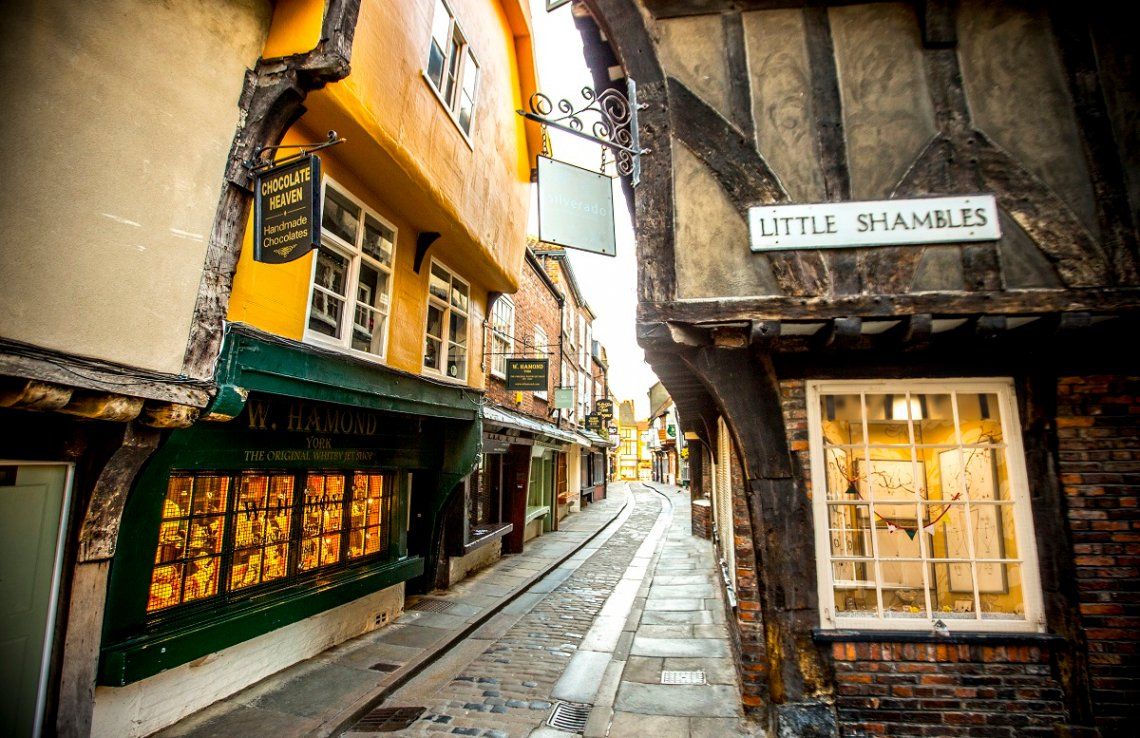 Little Shambles is an old cobblestone street in York with historic half-timbered and stone houses. Photo: Visit Britain / Andrew Pickett
Freeontour tip #4: York
With its Roman roots and Viking past, the historic city of York has now even become a centre of chocolate production. Located on the River Ouse, York was voted the best place to live in Great Britain by readers of the Sunday Times in 2018. Regardless of what you think about these kinds of polls, York does actually offer a unique quality of life. You can feel it instantly. The world-famous York Minster is a must for any itinerary. The largest medieval cathedral in Great Britain is quite simply one of England's architectural wonders: it is a place of spirituality, worship tradition and divine music, but also just a quiet place to retreat. Visitor highlights in York also include the Undercroft Museum in the cathedral's crypt and the great collection of medieval stained-glass windows. Moreover, the centre of York is perfect for strolling and discovering its small streets and shops. And every explorer needs to stop over at "Betty's Café and Tea Room", which celebrated its 100th anniversary in 2019. Because, as you know, a good cup of tea and some biscuits is good for the body and soul – and that's something they understand at Bettys.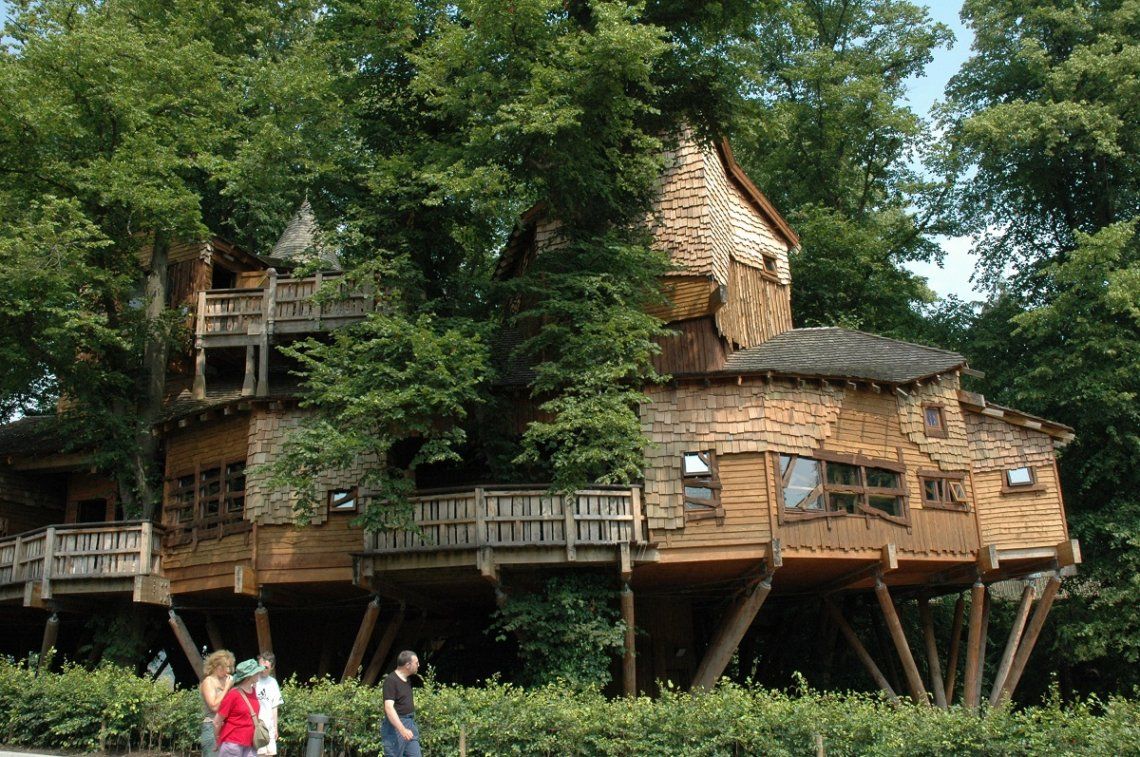 The tree house restaurant in The Alnwick Garden is a unique highlight. Photo: Jörg Berghoff
Freeontour tip 5: #Alnwick
The north-east of England is richly blessed with scenic and cultural attractions – a small world of its own. This also applies in particular to two gardens with very different characters, which will whisk visitors away to their very own paradise. The Alnwick Garden is one of the most amazing new garden projects in Europe: launched on the initiative of the Duchess of Northumberland, it continues to attract many visitors. Extremely eye-catching are the tree house restaurant made entirely of wood in the entrance area, Europe's largest water cascade, a poison garden and a large rose garden. Spacious parking spaces are also available here, so you shouldn't have a problem parking your motorhome safely.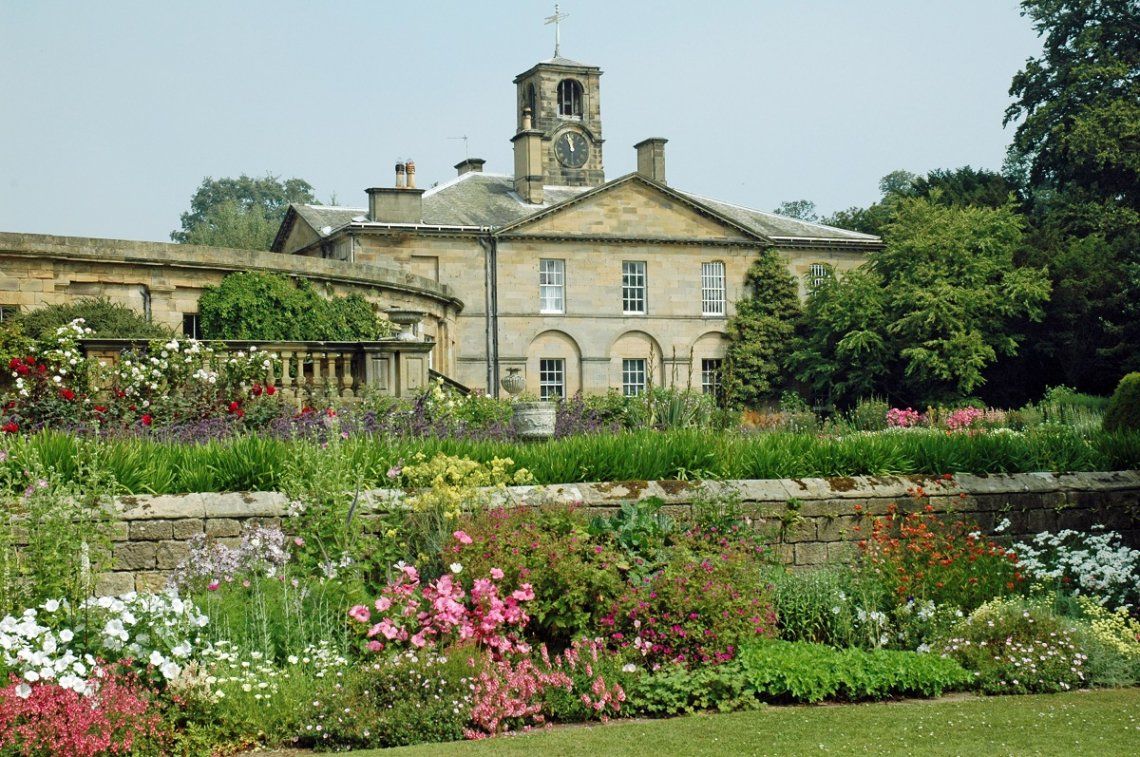 Howick Hall and Gardens is open to visitors between February and November each year. Photo: Jörg Berghoff
Alnwick Castle also has another trump card for film fans: Robin Hood and the Harry Potter films were shot here. Visitors will find a special oasis of calm at Howick Hall and Gardens, a garden and arboretum that dates back to Charles Grey, 5th Earl Grey. His ancestor, Charles, 2nd Earl Grey, is said to have invented the famous bergamot tea, which can also be enjoyed in the stylish tea room. And nearby, the Holy Island of Lindisfarne not only has a castle and abbey you can visit, but also a small walled garden created at the beginning of the 20th century by the famous garden designer Gertrude Jekyll. Nature and culture create a wonderful symbiosis in Northumberland in the north-east of England.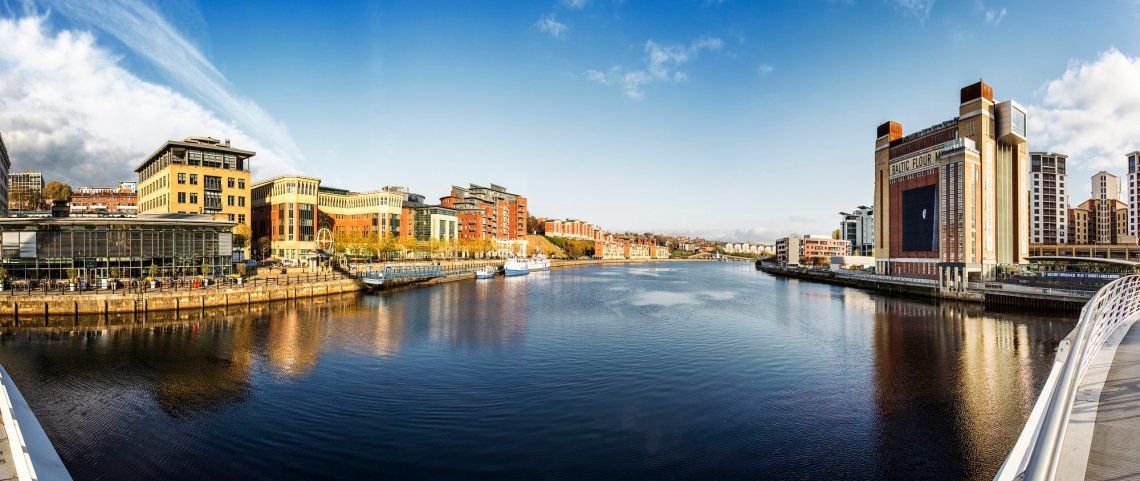 Newcastle upon Tyne has changed a lot over the past few decades and is definitely worth a visit. Photo: Visit Britain / Andrew Pickett
Freeontour tip #6: Newcastle upon Tyne
If you want to experience something special in north England, then you need to go to Newcastle upon Tyne. This city has undergone an impressive boom in recent years and has made a name for itself with its impressive urban development. In Newcastle, the "Grey's Monument" in the heart of the city, the popular "Tyne Bridge" and of course Newcastle's landmark the "Millennium Bridge" are exciting attractions. The covered Grainger Market is also a piece of living history and a visitor highlight. The market has obviously changed since it first opened in 1835, but its original retro charm has been retained. Despite all the prophecies of doom, the traditional Newcastle United Football Club is still in the Premier League. So why not watch a home match at St James Park for a fantastic football experience and a lively atmosphere?