Norway is known for its relaxed attitude towards camping, which makes it an extremely popular destination for camping holidaymakers. Besides the visitor classics in the Norwegian fjords, such as Preikestolen (Pulpit Rock), Geiranger Fjord, and Hardangervidda National Park, there are numerous other hidden gems. To give you a glimpse of some of these alternatives, we are taking you on a motorhome tour of the Norwegian fjords from Geiranger Fjord to the Jotunheimen National Park to share our favourite spots with you.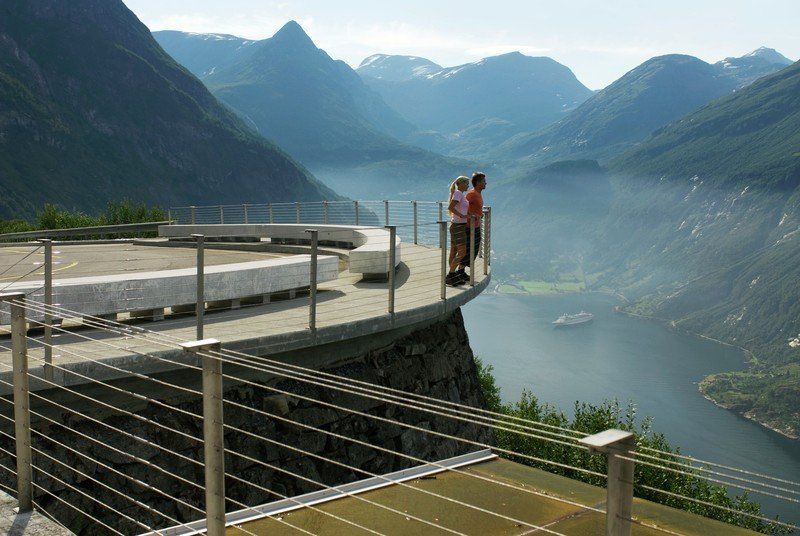 We begin our little Norwegian motorhome tour at the Geiranger Fjord in Valldal and from there take the ferry to Geiranger, where you can enjoy the ferry trip over the bright blue water and learn a little bit more about Geiranger Fjord. On the way to Geiranger you will see the famous "Seven Sisters" waterfalls. 
Our motorhome tour continues: Arriving in the town of Geiranger, you take road number 63, which will later turn into road 15 in the direction of Bismo. This takes you through a number of villages until you are once again right at the heart of the stunning countryside. Here you will find an amazing mountain pass, which quickly brings you to 1,500 m above sea level. Allow yourself enough time to enjoy the landscape, as even in windy, cold weather, the immense beauty of the surroundings is overwhelming.


Our tip: Visit the Geiranger Skywalk, which stands at a height of 1,500 m. You can reach it via a toll road and once you get there, you'll find sufficient good parking opportunities for your motorhome. Here you have a tremendous view over Geiranger Fjord, and the immense expanse of the Norwegian landscape from this perspective is utterly breathtaking.
Video: Geiranger Skywalk
Continuing on to Jotunheimen National Park
Okay, it's true that these days everybody knows of the Jotunheimen National Park, so it can't be classed as a secret anymore. But, as it is one of the few national parks that offers superb adventures even for day trippers, we have put together two hiking tours in the Jotunheimen National Park for you.
1. Hiking to the Jotunheimen glacier
The starting point for this hiking tour in Jotunheimen National Park is Gjendesheim. If you enter this waypoint into your navigation system you should find ample free parking. These carparks are also fine for overnight stops if you want to start early the next morning.  
The more adventurous among you can book glacier climbs during the climbing season. The path is clearly marked in red and obvious from the car park, as is the glacier itself. 

The hike is also suitable for beginners and is calculated to take around 3 hours. Be sure to wear sturdy shoes suitable for wet conditions as you will need to cross a couple of streams and, depending on the time of year, the ground can be damp and soft. The hike will not only reward you with its spectacular scenery, but you are also certain to encounter Norwegian lemmings.
FREEONTOUR tip: Plan in extra time for the journey to the starting point as the road passes through spectacular countryside. 

2. Hiking tour Jotunheimen Peer Gynt trail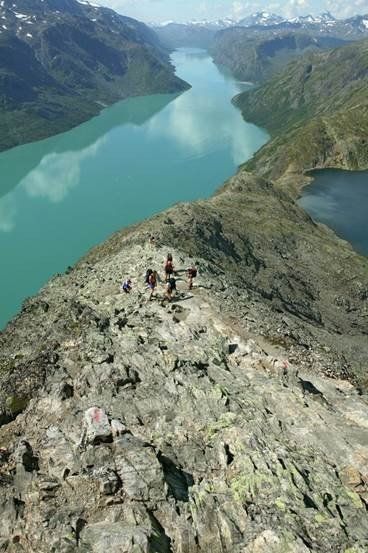 Jotunheimen Peer Gynt trail © visit norway
The starting point for this hiking tour is Gjendesheim. We recommend you book two nights on the campsite Besseggen Fjellpark Maurvangen. This way you can arrive comfortably in the evening and walk to Gjendesheim the next morning (approx. 20 minutes) to begin the hike. There are limited parking places (not free) around Gjendesheim, but these are not always suitable for motorhomes and are definitely not suitable for cars towing caravans.
Once you arrive in Gjendesheim, take the ferry to Memurubu. We recommend that you get the first ferry of the day so that you have plenty of time for your hike. You can find the current ferry timetable at the campsite or in the wharf. Be prepared to pay for the smaller ferries in cash if necessary, or you can Book tickets online.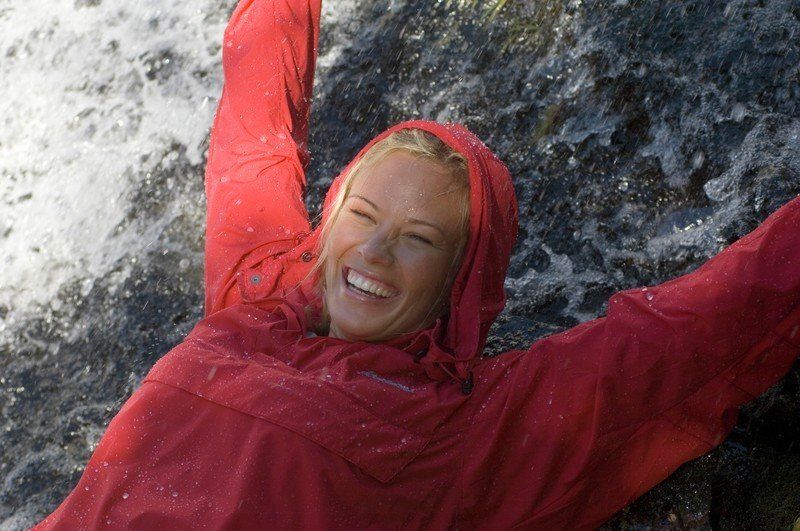 Jotunheimen National Park © visit norway
When you arrive in Memurubu, follow the signposted path to Besseggen. There are various hiking tours along this route, some of them stretching over several days, so it is worth taking the time to study a hiking map while relaxing at your campsite. 
Our suggested tour is only suitable for experienced hikers with no fear of heights. Sturdy hiking boots, rather than shoes, are essential. We recommend you plan 6 hours for the tour (not including stops), and, as always, ensure you have sufficient supplies as there are no opportunities to buy refreshments en route. 
But back at the campsite in the evening, we heartily recommend you try some local dishes. 
As this section of the route is not too long, it is possible to do it in one day. However, if you decide to split it into 2-3 days, we recommend you stock up your vehicle and ensure you have plenty of fresh and wastewater capacity, because the facilities along this route are not very frequent. 
You will however find a freshwater and disposal facility at most petrol stations. Some may charge a token fee of 10-30 NOK to fill up with freshwater, but disposal is usually free.