Hi, it's Doreen again, the blogger from she is on the road again.
Photo: Dream beach at Le Touquet
After I told you last time about my passion for Portugal, I would like to tell you today why France is my perfect destination country.
I live in Düsseldorf with my partner Carsten and our terrier Stuart. Near enough to Northern France to be able to say, it's always worth making a short trip there. This means, we spend most of our days off "on the road" in France.
What are my 5 reasons for saying that France is my perfect destination country?
I don't need to think about it for very long to say without any doubt: It's my gut feeling. If you simply feel comfortable in a country, when you are a welcome guest and your four-legged friend is equally welcome, then for me that is the perfect destination.
And France has just about everything you could ever desire. Good food, breath-taking scenery, fantastic architecture and a style of country life that most of us can only dream of.
What's more, every area has its own specialities and highlights, and I would like to introduce you to my favourite places in these regions.
Normandy
Brittany
Loire
Provence/Alpes/French Riviera
Camargue
1. Normandy - my destination for any time of year
As I said at the start, we are lucky enough to live relatively close to the channel coast in Northern France, near to Normandy. So, it's become a bit of a habit that we head in the direction of Nord-Pas-de-Calais for every long weekend and other short trips.
Besides its geographical location, this has another advantage: The French lifestyle immediately instils me with a "holiday feeling". This means, in France the day begins with a delicious baguette or pain levain, and generally ends with a superb local rosé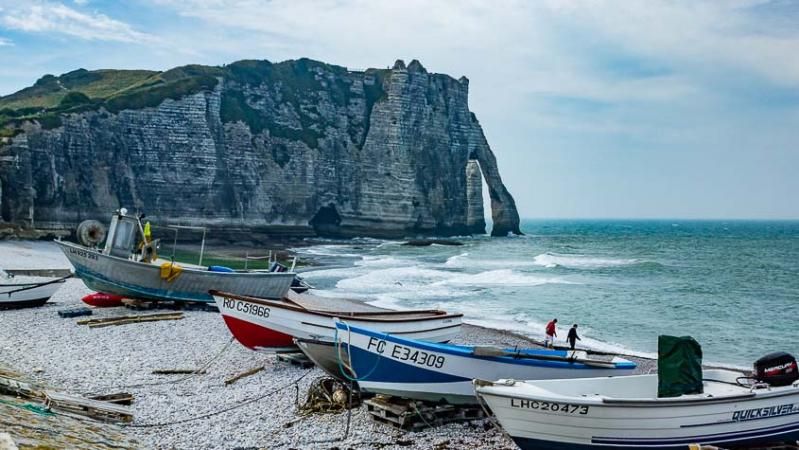 Stone arches in Normandy
The seasons have little influence on us when we are travelling in Northern France. We have organised ourselves in the meantime so that we can live in our motorhome all year round, and are relatively independent of electricity, sunlight and water intake. The double floor, a sufficient solar system and an almost 600-litre freshwater tank, and the generator in the rear garage mean we are equipped to enjoy even the windy and cold days in northern France.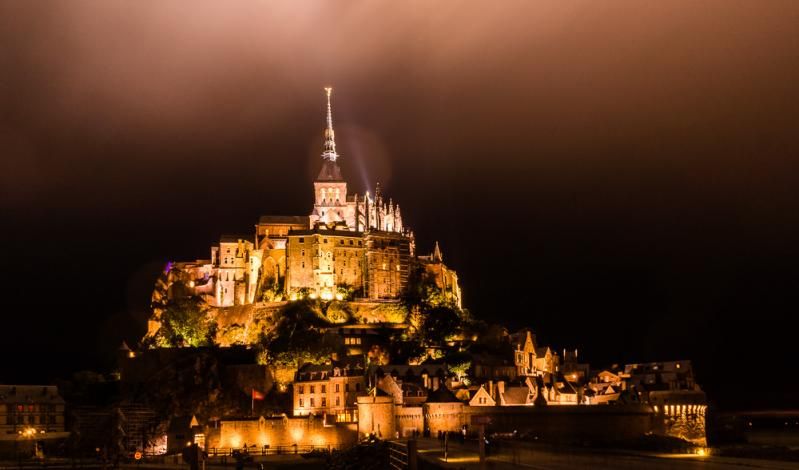 Mont Saint Michelle in Normandy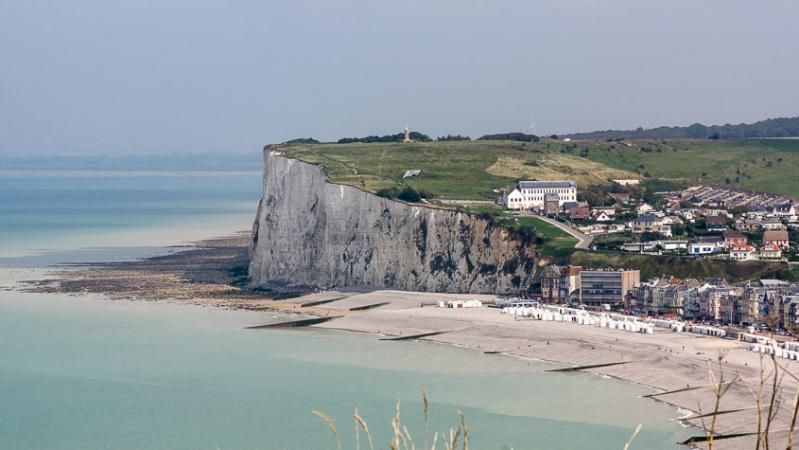 Photo: Le Treport
Normandy offers a wide range of leisure activities. In summer, a day on one of the endless beaches is compulsory, but also a trip to the market and a bike tour, as well as daytrips to discover the cultural and historical highlights are always on our agenda.
2. Brittany - under-appreciated dream destination
Brittany is often overlooked when people are planning a "motorhome tour" to France. This is because, among other things, it takes a long time to get there. From Düsseldorf, we have already travelled 1,000 km before we even reach the heart of the country. And this means we still haven't entered the Southern European climate and often have rainy and windy weather.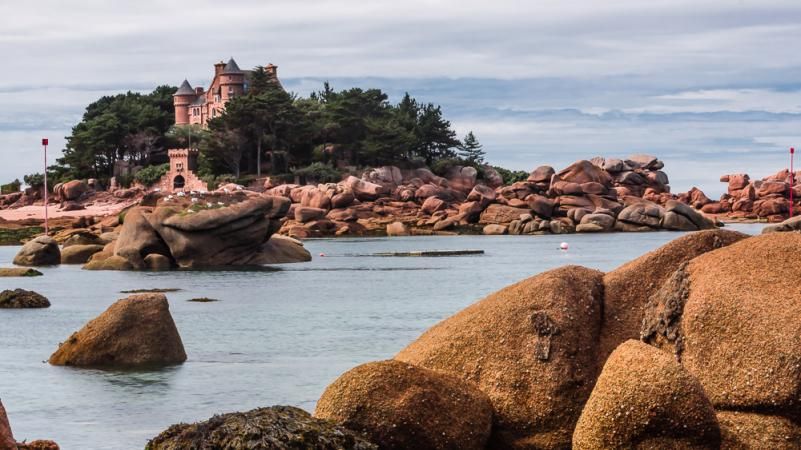 Cote Granit Rose, Brittany
But I would like to recommend you visit this area anyway. Brittany surprises you with its breath-taking beaches, white sand, beautifully pure sea air, and numerous coastal islands, which are just waiting to be explored by day trippers.
Brittany islands have such pretty names like:
Glénan islands
Quessant
île de Sein
Belle île
Due to the Caribbean flair of these islands, just googling them will make you want to pack your bags for Brittany. Furthermore, the Brittany Côte de Granit Rose is an amazing destination and draws photographers to the "blue hour" from all over the world.
3. The Loire - Pearl at the heart of the country
A few years ago, we considered the Loire region always a beautiful area for an intermediate overnight on our way to the South.
However, after we did the classical "château tour" a few seasons ago, we have been drawn back again and again. And for more than just one night. The peacefulness of the countryside and the large number of riverside pitches and campsites make this a perfect area for us.
Now we always work in longer stop in the Loire as part of every trip to the South, and every time there really is something new to discover. You can use "just passing through" as a perfect excuse to discover a new château and to visit the pretty villages there.
I would especially like to recommend a stop at Château Chambord, the largest of the Loire castles. There is a perfect pitch for overnighting right at the château. Your dog will also be very pleased, as the grounds and woodland around the château are ideal for endless walks.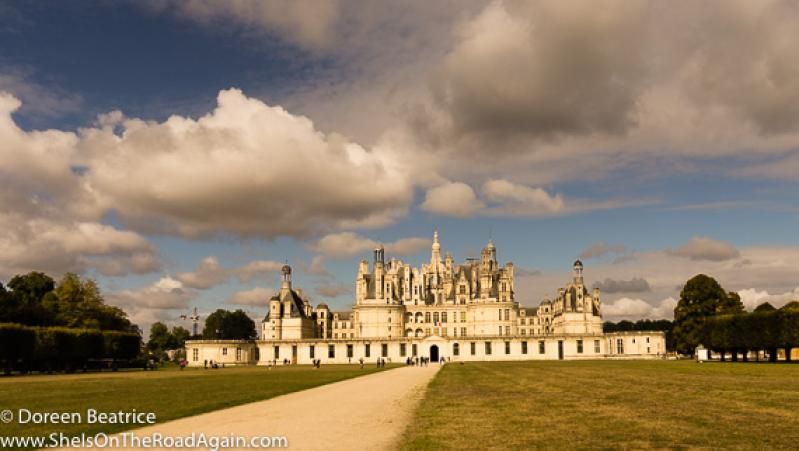 Impressive Château Chambord, La Loire
The somewhat smaller Château Chaumont is also always worth a visit and the Camping Municipial at the foot of the village is an absolute dream! In spring, some artists display their sculptures and drawings in their private apartments in Chaumont, which gives you a chance to really appreciate the French way of life.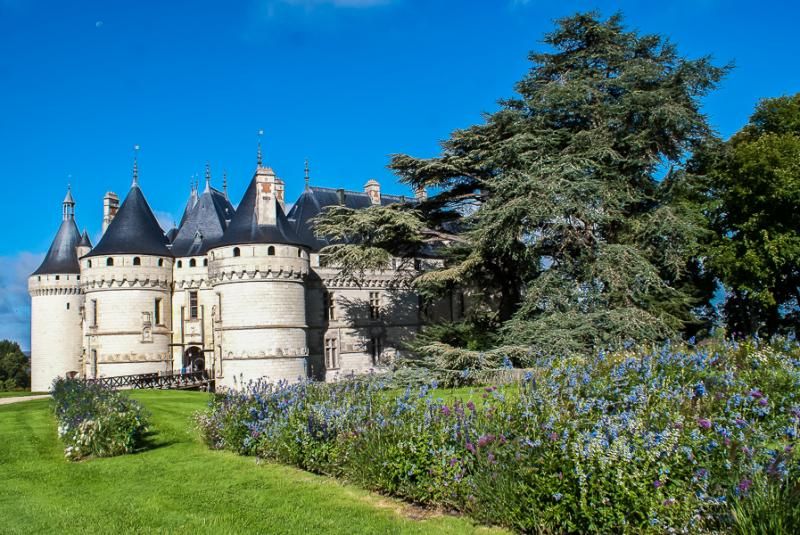 Chaumont, La Loire
Additionally, I would like to mention that the Loire cycle route also has a very good reputation - so you should definitely bring your bikes.
4. Provence, Alps, French Riviera - these regions have stolen my heart
Photo: Dreamy Gordes in Provence, France
I don't know HOW or WHY, but I feel really at home in this region. Provence in particular, is my absolute dream destination in France. But because it is so far from Germany, you should definitely plan in an overnight on the way there and on the way back, otherwise it becomes too stressful.
I find the first night in France is already part of the adventure! A quick steak frites and off to bed! Into holiday mode!
I love getting up very early to visit a market when I'm in Provence. Great cheese, a crisp fresh baguette and a strong coffee in a lovely little local start my day perfectly.
Our favourite town in Provence in definitely Gordes, even if it is difficult to find a parking spot and many people consider it too touristy, you certainly shouldn't miss it.
St. Remy de Provence; typical alley in Gordes
There is a fantastic campsite above the town (more suitable for small motorhomes) and from there you have an amazing view of the Luberon. But this also means that it is very hilly and cycling here is seriously strenuous. Nevertheless, Provence is considered to be THE cycle tour Eldorado and it doesn't let you down.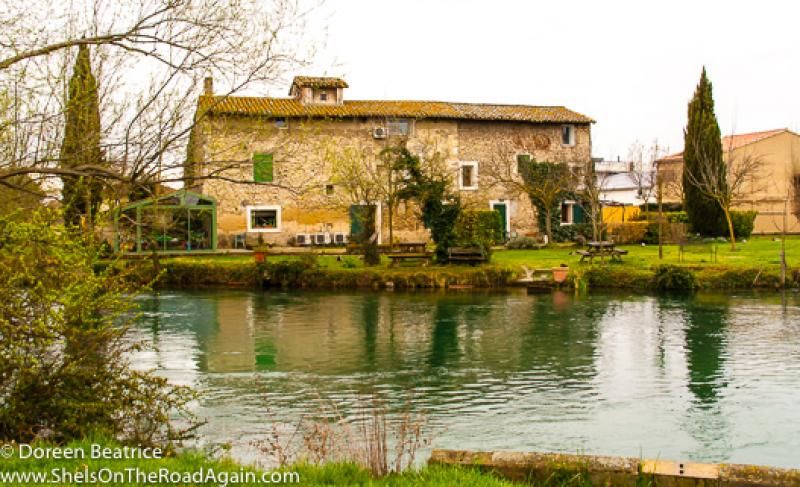 (Photo: Wonderful Isle sur la Sorgue)
If you are interested in antiques, you will be in your element in the beautiful village of L´Isle sur la Sorgue. Every Easter, there is a huge antiques market, which is spread throughout the entire village. This draws tourists from all over the world to this picturesque village.
And you mustn't miss the largest and most spectacular provincial market, which is held in L´Isle sur la Sorgue every Sunday.
(Photo: Market in Provence)
If you are continuing further South, you must not miss Ramatuelle and Saint Tropez on the French Riviera. On the Plage de Pampelonne, in particular, there are superb beach bars, the most amazing Vin Rosé you can imagine, and areas of beach where your dog can live life to the full.
5. The Camargue - natural southern beauty
This strip of land has a very special attraction for me and my partner Carsten. If we manage to get away over Christmas/New Year, then we set off in the direction of Saintes Maries de la Mer. Even at this time of year, the weather can reach an unbelievable 18-20 degrees and, at least around midday, you can sit in the sun outside your camper.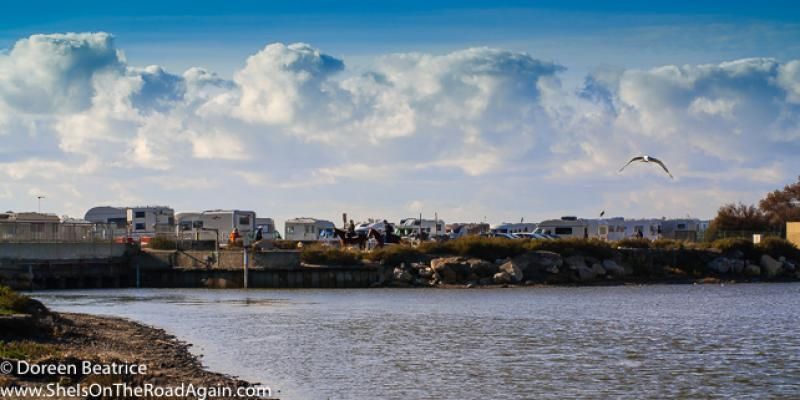 Wild camping with the motorhome in Saintes Maries de la Mer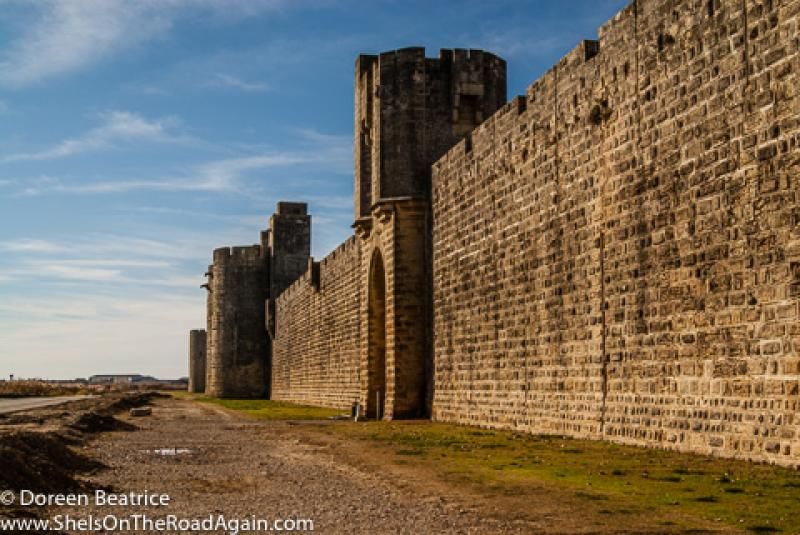 (Photo: City wall of Aigues Mortes)
The salt pans of Camargue will impress your four-legged friend and any keen photographers in the group, as will the white horses and pink flamingos. And Camargue is also the absolute Eldorado for riding enthusiasts, who consider a hack through the salt pans to be a TOP HIT. The salt pans are naturally also perfect for cyclists, who can enjoy endless kilometres of freedom.
We really like Saintes Maries de la Mer and feel very at home here. This town has so many motorhome pitches right at the water's edge that I've never been anywhere else like it. What's more, two of the campsites have access to the beach and one of these is even open over Christmas/New Year.
Winter in Saintes Maries de la Mer; church in Saintes Maries de la Mer

Other beautiful cities such as Arles, Avignon and Aigues Mortes can be found very close to Saintes Maries de la Mer, and are all within reach for a day excursion.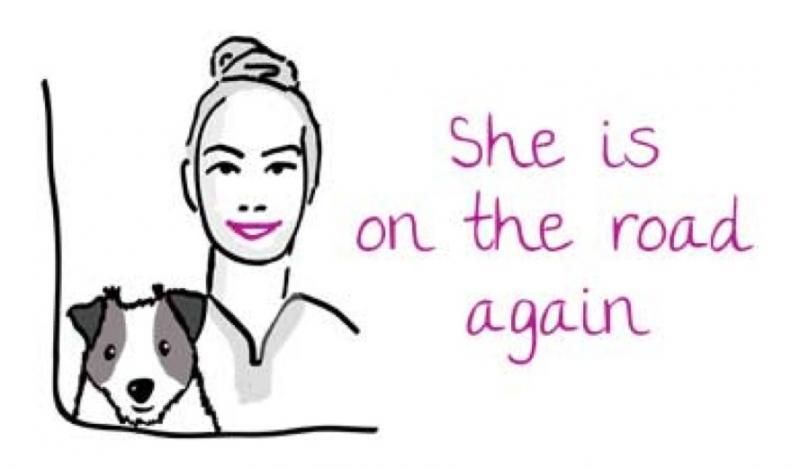 So, I have told you a bit about my beloved France and I hope I have aroused your curiosity or triggered happy memories.